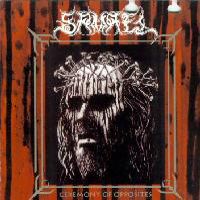 ---
Samael NEWS!
Oct. 2001
No News about Samael... samael.com is now closed and no news about band members

December 01, 2000
Samael claim to be free from their recording's contract .
After trying to find an agreement over the last months, it seems that things will go further.
Therefore the band's activities will be stopped for an indeterminate period.

July 14, 1999
† Finally the wait is over for the release of the new Samael album. Eternal will be released Sept. 14th [US] and includes such highlights as "Year Zero", "Together", "The Cross", "Supra Karma", "Nautilus And Zeppelin" and "Radiant Star". The album was produced by Dave Richards (Rolling Stones/Queen) at Switzerland's Montain Studios (Deep Purple/Frank Zappa). The band should be coming over in September to tour the US with Dimmu Borgir. †
† I'm looking for the Worship Him Lyrics!!! †
Samael New CD
Eternal : 07/19/99 [EUROPE]
09/14/99 [US]
Samples here!

Feb. 10, 2000
Samael plan to make another US Tour!

April 2000

Samael [Off.] www.samael.com

Samael Pages now 4 pages: List + Links + Lyrics